Llandudno based 26 year old Matt Edwards has recently embarked on his 6th season of Rallying and is now a well known figure both within the sport as a determined chareacter, and within his local area as a sports star.
Despite his ongoing budgetary contrains to compete at the level his ambitions aspire to, Matt already has several impressive titles to his name, including;
2010 BTRDA 1400 Series Winner, + MSA English Champion
2010 Mid Wales Stages Overall Winner (Subaru Impreza N12b)
2009 Fiesta Sport Trophy Media Award Winner
2009 Fiest Sport Trophy Runner-Up
Bulldog and Manx BRC Challenge Rally Winner
2008 ANWCC Forest Champion
2008 Welsh National Grp N Champion
2008 Welsh National and BTRDA U-25 Champion
2008 BTRDA Grp N Champion Runner-Up
2006/7/8 ANWCC Junior Champion
2007 Welsh National U-25 and Class A Champion
2007 BTRDA B8 Class Champion in 1400 Series
2007 Runner Up BTRDA 1400 Series
Matt had a relatively late start to his rallying career, contesting his first rally at 20 years old. That event was his local Cambrian Rally, a rally that in future years would play a big part in his career. For the time being, Matt was gaining experience in his self built and prepared 1400 Vauxhall Astra, and also building up a reputation as a gutsy and determined competitor, oftern going the extra mile on his comparitively small budget and basic car.
With event class awards and championship titles racking up, Matt finally got his first big chance, as with the support of Geoff Jones behind him, Matt would compete in 4wd for the first time in 2008 BTRDA events. This season would see Matt gaining in speed and confidence in every event, achieving faster and faster stage times, yet always bringing the car home; indicating maturity beyond his years and a telent that enabled him to quickly adapt to different cars.
In his carreer so far, Matt has already competed in four different 4 wheel drive cars, and three different front wheel drive cars, and on each occasion found himself at the front of both rally and championship tussles.
For 2010 Matt again challenged himself with a different car to learn, using a 586 Sport-run MG ZR 1400 in the BTRDA1400 Series, and once again proved the dominant force of the season, taking 5 wins from 8 events, including the last 4 events in a row.
James Wozencroft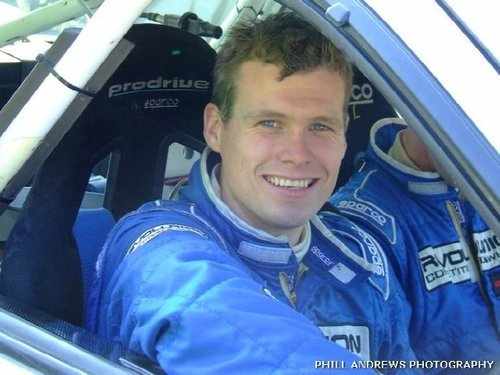 World Rally Championship
---
Over the years James has competed in 3 World Rally Championship events.
In 2006 James was competing in the British Rally Championship in a Suzuki GB backed Suzuki Ignis Super 1600.
For Rally GB the 'Motor Sports Association' gave James an entry into the Junior World Rally Championship. This meant that James would be scoring World Championship points.
Leg 1 of the rally did not go to plan, with 2 punctures that James drove to the end of the stage and then a third puncture that James and Rob had to stop and change. Leg 2 on the other hand could not have gone any better. The forest roads over the army ranges on Epynt would be a happy hunting ground for James. With a string of very competitive times finishing with a time only 14 seconds (in 22 kilometres) slower than Junior World Champion P G Andersson, James moved right up the leader board. After 3 stages on the final leg James was lying in 3rd overall in the Junior World Championship but a last stage puncture would see him drop to 6th. Still a great result for James first World Championship Rally.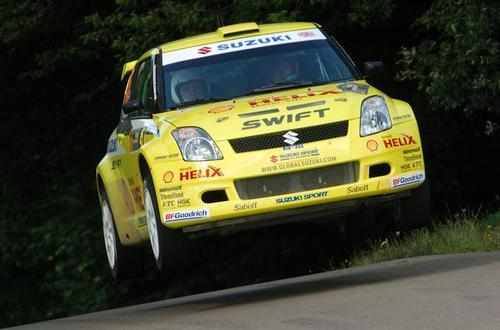 When the Suzuki World Rally Team's number 1 driver P-G Andersson lost his driving license James was asked to drive his car in Germany. This was an amazing opportunity that James took with both hands. With alot of pressure on James from the Suzuki bosses leg 1 was very cautious for the British crew lying 6th overall at the end of the day.
James pushed harder during leg 2 and through the famous stages of the Baumholder military ranges James set a 4th fastest time in Erzwieler. In the next stage at the 21 kilometre split James was only 4 seconds of the leader in the Junior World Championship, until disaster struck when the front wheel studs sheared and James was forced to retire.
In the 2007 Wales Rally GB James was driving a Suzuki GB backed Suzuki Swift GpN. James needed to win all 3 legs of the Rally to take his 3rd British Rally Championship title in as many years. In his under powered car James was up against a tough challenge but when heavy fog descended on the final stages of leg 1 James saw his chance to push for the lead of the rally. The Suzuki was flying through the penultimate stage until they came across a car that had been involved in an accident, stopping to try and assist them the crew lost around 40 seconds but amazingly still won the stage by 16 seconds. This meant James had to win the final stage by 12 seconds to stay on course for the British title, but with the fog clearing they could only win the stage by 8 seconds. James still won the class on the rally but unfortunately missed out on the title by 1 point