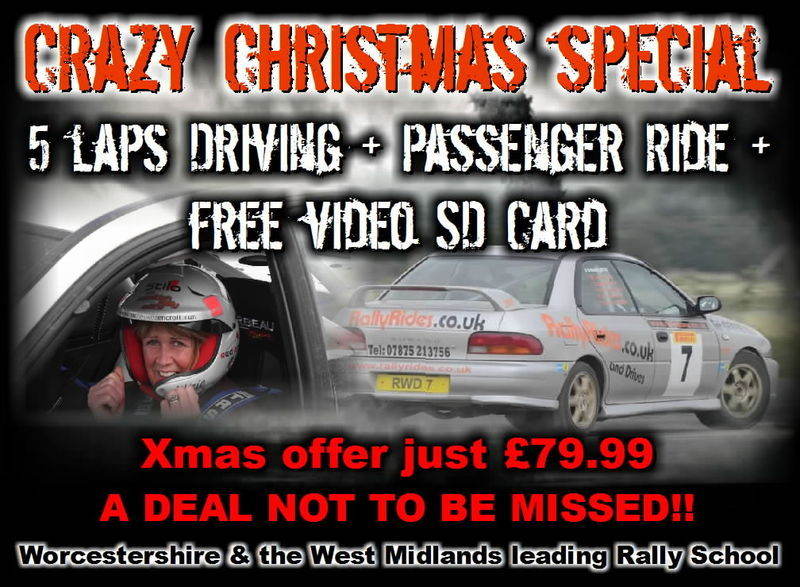 Due to the success of last years xmas deal we have decided to go one better !
This year each driver will recieve 5 laps driving our fully rally prepared Subaru Impreza around our purpose built and very slippery rally stage, expect plenty of sideways fun as these cars are converted to rear wheel drive and don't need to much encouragement to slide sideways into and around corners, Feel the adrenaline kick in as you approach a slippery corner sideways, It's all against instinct but apply the power and experience the thrill of sliding around the corners fully sideways in what can only be described as outrageous style!
With a professional instructor at your side we'll have you sliding your way around our slippery rally stage like a true professional!
To top off your adrenaline rush it's now time to experience possibly the most sideways passenger ride of a lifetime, feel the rush as our instructor blasts you around the rally stage at full rally speed !
And here's an additional extra, watch your experience back with friends and family as each driver will also receive a FREE recording of their experience to SD card to take away with them!
What you will get:
* 5 Lap's of a purpose built rally stage with a proffesional instructor
* Passenger ride at rally speed with your instructor
* FREE in-car video recording (SD Card) (Norm £15.00)
* FREE access for spectators
* £5 OFF spectator rides purchased on the day, Priced at £10.00 (Normally £15.00)
Now that's what you call good value at just £79.99 or if your looking for that little bit more we have a fantastic offer on FULL DAY courses, CLICK HERE TO CHECK OUT FULL DAY XMAS OFFER!
(Allow 1hour at the venue)
Why are we the best at what we do, our customer feedback section says it all, be sure to check it out!