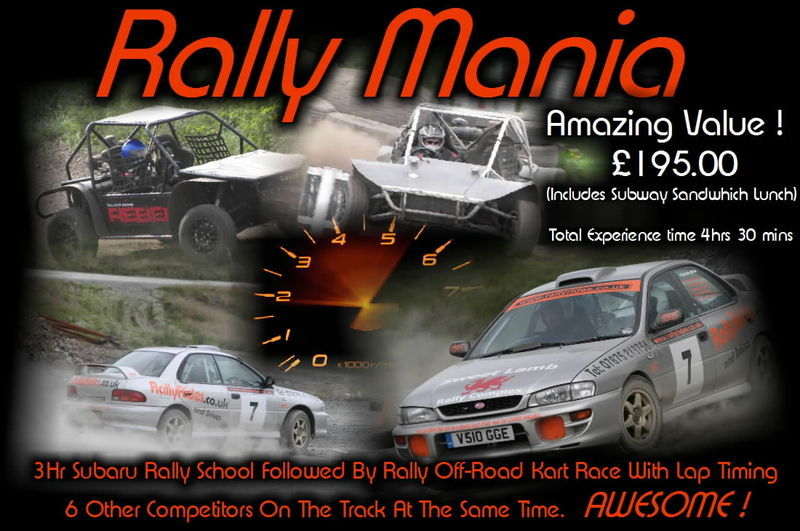 (Rally Mania for group bookings with a Minimum of 6 drivers, only available at Venue 2 Birmingham)
Ideal Stag/Hen/Corporate/Family day out!
This unique course is designed to offer that little extra value for money!
Starting with a 3hr Subaru Rally Experience with instruction from a Rally Champion you'll experience the thrill of powersliding our RWD Subaru Impreza around our tight and twisty gravel stage, Using techniques such as Handbrake turns & Scandinavian Flicks we'll soon have you ready for your timed competition!
With a maximum of 8 taking part you'll now be timed as if you were on a rally, will you be walking away with the driver of the day award ?
Now it's pay back time, hold on tight as we show you just how sideways these cars can really go!
Thats Not All!
As a part of this unique experience you'll now put your Rally Skills to the test as you take part in an Off Road Rally Buggy Race.
6 Buggies Racing at the same time with computerised lap timing, how cool is that!
These awesome off road buggies will offer you the chance to compete once more against your fellow course members for yet again another trophy!
Total Course Time 4hrs 30 mins - 5hrs
(Includes Subway Sandwhich Lunch For Drivers)
Wet suit supplied as please remember these are extreme off road buggies so dirt is apart of the fun!
ALL FOR AN AMAZING £195 Per Person!
Call for details